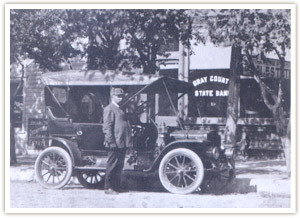 On May 22, 1929, the Gray County State Bank, which was organized in 1904, converted to a national bank and began operating as the First National Bank in Cimarron. With capital of $25,000, the bank officers President C. E. Mackey, Vice President C. B. Erskine, Cashier R. V. Butcher, and Asst. Cashier A. V. Hanna began offering a "Better and safer banking service to all its many customers and friends."
The Ingalls branch joined the First National Bank family on May 1, 1991 when the First National Bank in Cimarron purchased the Farmers State Bank in Ingalls.
Today, First National Bank remains committed to the original philosophy of service. The Mission Statement of First National Bank states: First National Bank is a locally owned, community oriented financial institution, dedicated to providing quality customer products and services to businesses and consumers through professionally trained personnel for a profit.
We believe in our community and our ability to serve you better than anyone else. When you invest with First National Bank we put your money to work for you and a better local economy.